Is Singapore Good For Rollerskating?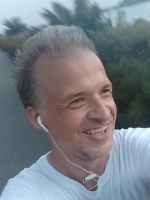 The answer is Yes. Yes, it is! Go to Singapore and go skating! That's it. That's the end of the article, thanks for reading! :)
I really love Singapore. I love Philippines too, but Singapore is full of Filipinos so you don't have to walk many yards before you hear Tagalog and can engage with Filipino people again. And then there's Orchard Road, which is really just Manila-away-from-home.
The food in Singapore is varied, tasty and very cheap. I will post some photos throughout this page of foods I ate in Singapore. I very rarely spent more than SGD $5 on a meal (P200).
So How's The Skating in Singapore?
Absolutely fantastic. I was staying at a place called Kallang and would skate from there along the main roads (on the pavements only, Officer, promise!) to East Coast Park, right to the end of the park up near the airport and then down to the Harbour near the Gardens by the Bay and the big wheel, Singapore Flyer, and that whole area.
I would hang out there for a bit, then skate an alternative route home - especially when I got lost and accidentally headed in directly the wrong direction twice in the same trip. Then I got blisters after five hours of skating with damp, sweaty feet - this was my first skate after six months of not skating at all.
All the pavements are skateable, there is plenty of space and mostly decent surfaces, you really can go anywhere and it's fun to explore the city this way. Alternatively, take the metro train or buses right up to the edge of the park and then skate from there.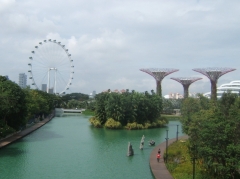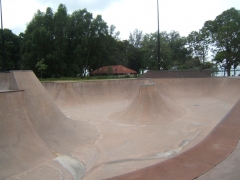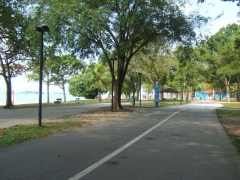 That whole area is so perfect for skating and it goes on for miles and miles, with some crowded areas with loads of pedestrians and different surfaces, some hilly bits, some super smooth bits, some less smooth bits. It's really fun. And the views are just amazing, such a beautiful place to skate and you can keep skating until around 8pm before the sun sets....and then carry on some more in the dark if you want to.
You can skate across the whole city but I was only there on this trip for 3 days so didn't really explore other areas as much as I wanted to.
There is also a dedicated skate park along East Coast Park (ECP). I assume there must be others in other areas, research it I am sure you will find some really cool places. During my skate I did see a couple of areas where skaters hang out and do their stuff together. One group are doing slaloms and other tricks. I didn't stop to hang with them but most skater groups I've met (in London, Nice, etc) are very welcoming of anybody who approaches nicely. So don't be shy: go and introduce yourself and say hi.
There are plenty of other people doing wheeled-sports: skateboarding, skating, cycling, all across the city but especially in the ECP area.
Is It Legal To Skate on the Pavements (sidewalks) in Singapore?
Yes. Cyclists also skate extensively on the pavements and can be pretty reckless too! So it's totally ok to have wheels on pavements.
In fact, I stopped to ask a policeman about this whilst skating through an overcrowded tourist area.
"Excuse me?" I asked.
"Yes, Sir?"
"Am I allowed to skate here? I just want to check because i understand Singapore has severe punishments for breaking the law..."
"Yes, of course. But do not skate in the road, only on the pavements."
"Is that all over the city?"
"Yes. Just don't skate in the road, you might get hurt."
"Ahh don't worry, Officer. I am really comfortable in amongst traffic, but thank you, I will respect the rules."
"No really, it's not about being strict, it's a matter of safety."
He was so concerned about expressing it's not about discipline, the law is really there for the safety of the people. Because of my nature I found that a bit amusing but actually it's really cool.
How To Budget For A Skating Trip From Manila To Singapore
A lot of people believe that Singapore is too expensive. Well, it is true that some aspects of Singapore can be expensive for visitors, but on the whole it is much, much cheaper than you might imagine and the city itself is fantastic: great food, live bands (but drinks are expensive), relatively affordable low-end accommodation choices, very good and cheap public transportaton, loads to see (for free), a whole range of tourist attractions, did I mention the great food, and an entire city full of skateable pavements.
How Much Does A Trip To Singapore Cost?
| | | |
| --- | --- | --- |
| | | TOTAL |
| Return flights Manila -> Singapore and back | | P10,000 |
| Accommodation in Spacepod (3 nights) | P1,200/night | P3,600 |
| Food (3 days) | P600/day | P1,800 |
| Public transportation to and from airport | P100x2 | P200 |
| | | |
| Tourist Attractions | P1,000 each | |
TOTAL FOR MY TRIP: P 15,600
Flights
If you book your flights one month in advance and fly with Scoot (a subsidiary of Singapore Airlines) then you can fly from Manila in the morning and return in the afternoon a few days later for less than P10,000. As a Filipino you may also have to pay a tax to the Philippines Government for leaving the country, I think it is around P1,000. Jetstar also fly very cheaply but I have not personally used that airline so I cannot recommend it in the same way I can recommend Scoot, who were just fine.
Be aware that your airline may not allow you to take your roller skates in your hand carry so you may need to include one piece of check-in baggage as part of your booking if it is not already included in your ticket.
Accommodation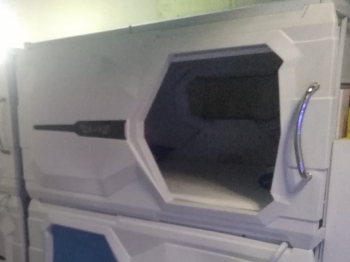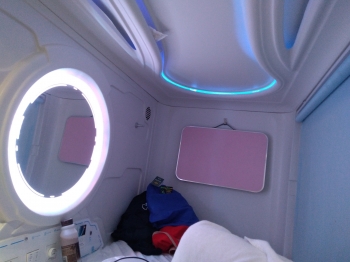 I stayed at the Singapore Spacepod dormitory. The price was around P1,200 per night. I booked the first two nights and extended for the third in person. It was slightly cheaper booking at the hostel itself (if you're flying in from another country book in advance online just to show immigration if they ask, but they usually don't bother.) The "room" is really a little capsule. I was surprised that the capsules are really spacious inside and I slept really deeply and comfortably. I did not expect that. The staff were excellent, really fun to talk to and very helpful. The cleaner introduced me to her family through a video call, just for fun really, and then the other staff agreed to print some documents for me to help me out on the way to my flight. Additionally, and this is really important, the place provides clean and cold or hot water for drinking for free. So just buy one bottle of water on arrival from a nearby supermarket and then refill it from the hostel/dorm. Your room price includes drinking water (and free tea, coffee etc actually) so it would be a shame not to take advantage of that.
Food
If you eat at Hawker centres you can eat really good for SGD $3-4 per meal. I generally buy very cheap breakfast or make sandwiches and then eat a hawker stall for lunch and eat a slightly more expensive meal for dinner ($8). My total spend was about P600 per day for food. I have been in SE Asia for long enough and I can assure you that if you spend P200 in Singapore you will be eating food at least as good as you get for twice that price in Manila. So you can budfget accordingly. You can eat good, cheap food in Singapore. Or you can be sosyal and spend more, everything is available.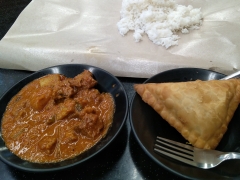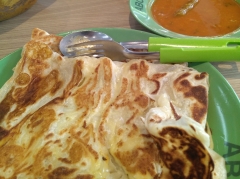 Transport
You have your skates! You don't need any other transport! But the Singapore metro train and bus systems are actually really good. They are quick, clean and fairly spacious even during rush hour - certainly you will be comfortable enough. And Singapore is not very big so it doesn't take long to get across the city. It's definitely useful to take the metro train to and from the airport on arrival and departure. The total cost will be around SGD $3.00 each way, so around P200 for two trips. You can buy single use tickets that way. If you're staying for longer than load up a rail card for $12. When you use those rail cards the fares are much cheaper so it's actually good value.
Total Cost of my 3-day Skating Trip: Less than P16,000.
Additional attractions and related costs
Three days really wasn't enough but I had to go to Singapore anyway. I have been to Singapore other times and can definitely recommend staying for longer, it depends on your budget and what you're going for. For budget, add an additional P2,000 per day for accommodation and food and then add P1,000 for every additional tourist attraction you want to do. It's actually less than that, but I like counting it at P1K and assume that includes a simple snack, water and transportation. It's just to simplify budgeting.
You can also eat out at very good restaurants, just add a bit more if you want to be more sosyal or upmarket, but research the restaurants first. In general, decent food is around P100-P300. Really good food is around P500 and a high quality place would be P1,000. The attractions that Singapore has to offer are mostly so interesting and enjoyable that it makes sense to limit yourself to one or maximum of two per day, especially if you have also have your skates or enjoy walking around new place. There's no point to try to squeeze more than that in.
There are also natural free attractions that you can experience such as Palawan beach and walking in the nature park among the tree tops.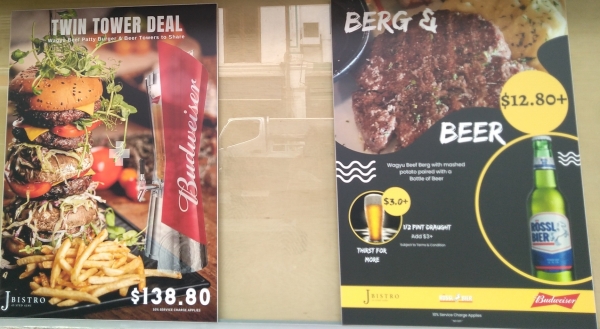 So if you want to stay another day and go to the Aquarium, add another P3,000.
With this in mind, a 5-day skating trip to Singapore staying at Spacepods and eating very good hawker food or normal roadside restaurants, three meals per day, with two days out going to the daytime zoo/safari, and the waterpark or Acquarium and maybe one morning or afternoon at the beach, you can assume P10K for flights, P10K for food/accommodation, P6k for attractions, P1K for "leaving the Philippines" tax, so around P27k for the 5 days, all-in. Make it P30k so that you have some space for mistakes or buying souvenirs and maybe having one or two fancy meals too OR make it 6 days to give you more skating time :)
I know that P30k is a substantial amount of money, it's probably about two to three times what most people spend on a cellphone. It's not an outrageous amount to go to Singapore (saving P2500/month for a year) and it will really be quite an amazing trip.
In Closing...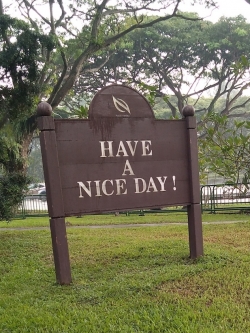 I wanted to write this little article because many people really believe that doing fancy things is outside of their abilities or financial capabilities. I know many people earning official minimum wage in Manila, let's say around P13,000 per month, who do not have a high burden on them from their families and if that's you then you are my target audience. You CAN do some things that you might believe are too expensive. You might choose not to :) but you can do it.
Singapore really has become my favourite place to rollerskate, even more than Nice (France) and London. I have enjoyed skating in Manila but the areas that link nicely together (BGC, Makati, Mandaluyong, Orgias), even as one big block, it's not really big enough. Nice is so beautiful, and London is so huge and accessible, but Singapore is really big enough and varied, it's really beautiful, has such a range of, super tasty and cheap food - and well, it's just a really good place to be.
Read on...

Lazada Lies

Making Custom RollerSkates in the Philippines