English Premier League Football Predictions
I suppose it's that time of year where everybody is declaring their predictions and hoping that in 9 months time, their prophecies have played out and they can declare themselves as the next psychic octopus or whatever the current trend might be. And I am no different. I am of course also hoping that I will be the great prophet who correctly predicts the football results for the coming 2013/2014 Premier League Season. So here goes:
Premier League Final Positions
I feel that the teams can be easily grouped into sets of four, five or six throughout the league table, and that there is quite a big gap between each group. There are six teams that are clearly some distance ahead of the chasing pack in terms of their best players and their entire squad. Predicting the final positions of those six teams is really very difficult as theoretically any of them could finish in first place, although I tend to believe that only three have a very good chance of doing so. A lot of people seem to believe that David Moyes's Manchester United will not have a chance to win the league. Why? I don't get it. They have a very good chance and of the top teams are the only team that really have a settled side. They have a very good chance, perhaps slight favourites. I am not sure about Manchester City, there are so many variables as they have so many new aspects to their side. Chelsea would be my favourites if they can find a great goalscorer, otherwise I put Arsenal and Manchester United as joint-favourites. Arsenal have a solid defence now, possibly the strongest midfield and a few good goalscorers too. THey just need to put it all together throughout an entire season.
1. Arsenal
2. Manchester United
3. Chelsea
4. Manchester City
5. Liverpool
6. Tottenham Hotspur
7 - 10 in alphabetical order
Aston Villa
Everton
Swansea City
West Ham United
11 - 14 in alphabetical order
Fulham
Norwich City
Newcastle United
Southampton
15 - 17 in alphabetical order
Crystal Palace
Sunderland
West Bromwich Albion

18 - 20 in alphabetical order
Cardiff
Hull City
Stoke City
I would also like to predict who I believe the top scorers will be ths season.
Sturridge to be the top scorer in the league this year, followed by Giroud and Van Persie.
Read on...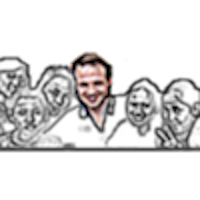 Baclaran Man's Desperate Plead For Help

Avenue Ridiculous Burger Challenge