First Trip To Amsterdam: Part 1 of 3

August 2006: From Nice to Amsterdam

My employers decided that I was looking decidedly stressed so they opted to give me one week's paid leave and also send me to Amsterdam for three days as part of the deal.

I left my apartment at 3am and walked 7km to the airport, following a multi-hour discussion with my girlfriend about whether or not I was correct to accept a free holiday that did not include her - the flights were expensive and the cheapest hotel room was around EUR 230 per night! Besides, she had work and it was supposed to be 'stress-free' so what choice did I have?!

I duly arrived at the airport barely awake and managed to stagger to check-in. Here, I was confronted by the French check-in clerks and had to somehow explain why my ticket name (Sandy) was not the same as in my passport (Alexander). Helped by some terrible jokes and an awkward yet unique surname, I managed to pass this test and boarded the plane.

On the plane I noticed that a few people were exchanging seats and there seemed to be some confusion, which I found confusing in itself. I picked a nice comfortable window seat and relaxed...until somebody wanted to take it away from me.

"Oh, are the tickets numbered?"
"Oui,"
"Sorry, I didn't realise....ah well." I moved to allow him to sit down, sat down myself, and checked my ticket number. It was 20d. I looked up and down the rows, 12, 13, 14....18, 19, 20! Voila! I was sitting in row 20 already.... and the seats.... I was in seat d too!
"HAHAHAHAHA," was my reaction, "c'est encroyable!!! Regarde," I said to the man, "c'est 20d ici!!!"

He did not seem to be quite as impressed as I was.


We arrived at Schipol Airport, Amsterdam, where I managed to upset the taxi drivers there by suggesting I might walk into the city centre. I was told simply that it was too far at 28km and so a long discussion ensued, whereby I asked compass directions and was told, "it's 28KM!!!" It was raining heavily, so I had not thought that I needed to be anywhere particularly quickly.
However, I instead just caught a train. At least I tried to anyway. I finally found the passage to the platform but could not see a ticket office anywhere. Surely, they're not on the platform I thought! I went to the platform and found a sign, "buy tickets in airport". Of course! Why didn't I think of buying a ticket for a train in a station built for aeroplanes. how stupid. So I returned and found only yellow machines selling tickets. I stopped to find my credit card allowing a Norwegian girl to push in front of me. I later bought her ticket for her, as she had no change, in exchange for information and a banana. We sat together on the train on the way into Amsterdam....
...where it continued to rain. I found my hotel quickly enough and settled in, hel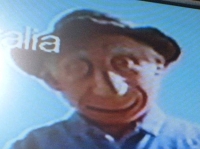 ped largely by a beautiful welcoming message on the TV/Internet console in my EUR 230 per night "budget" room: "Welcome Miss Sandy". I also took a photo of a television program that showed my good friend John in cartoon form.
What to do? First target: buy a coat. I had given away all of my warm clothes when I emigrated to Nice with the intention of staying inside when it rained. It had not occurred to me that I would go on holiday to a raining city, presumably to get away from the beautiful Nicois weather.
After that short excursion, I decided to go for a walk to see the Tourist Attractions. I started by looking for the famed Amsterdam Red Light District. It seemed sensible to locate it by day to make it easier to escape any subsequent troubles that might have occured during a nightly observation. However, I did not so much locate it as end up in the middle of it and the only way to know this was to see a very nearly completely naked goddess dancing in a window about 1 metre away from me. It was quite an unusual feeling at first, and a bit embarrassing. After seeing a few goddesses (and a few dogs) it became quite normal and not at all embarrassing, quite pleasing in fact. I had a few fun conversations with them, mostly mutual teasing and exchanging of witticisms, even making one or two temporary friends. By the word 'temporary' I mean 'lasted until I made it clear that I would not be buying'. Some girls continued to greet me in future days though. I particularly remember the policewoman girl who would always say "still walking?" as I walked past.
I spent the rest of the first day mostly wandering around the place...wearing my now saturated black jeans. I did manage to eat a wonderful meal at an Argentine restaurant, which had an excellent sauce made from peanut butter. A spoonful of the sauce somehow ended up in the crotch area of my jeans, but I did not mind because I knew I would not be wearing them again during the holiday. After this, I went for another quick walk and was followed a few times, by pushy drug-sellers. One such follower was not a drug-seller, but a form of beggar who pleaded for money in exchange for information.
"I don't have any."
"It's much better than mugging you or selling you drugs, or begging..."
"I quite agree"
"So, a few euros?"
"I don't have any"
This went on for a few minutes before I just stopped dead and walked in the other direction. He began to follow then changed his mind. This would turn out to be my easiest avoidance and my first lesson: just don't speak to them.
Read on...

Fred: "I Am Not A Lucky Man"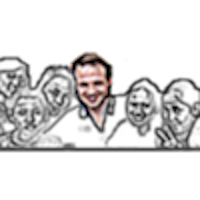 First Trip To Amsterdam: Part 2 of 3