Freddie Aguilar Live at Ka Freddie's

I have just come home from watching Freddie Aguilar and his sons and nephew playing the most amazing set of music I have ever seen. I am totally buzzing, they were sensational. Even though the venue itself must have only held about forty spectators, I rate that experience up there with seeing Bryan Adams, Paul Weller, Counting Crows, Iggypop live in various concerts and hundreds of local bands in small bars from various countries. They were as good, if not better, than anybody I have seen before. But of course. What more should I expect from a man who has achieved so much?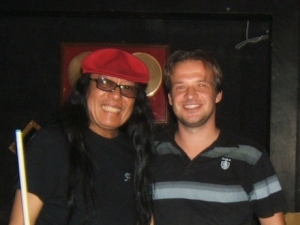 I first heard Freddie Aguilar's music in England when I was just eight years old, nearly twenty years ago! So I was very excited a few months ago when I first discovered that Freddie still plays live here in Manila. I went along to his old bar in Malate after a very long walk from Intramuros but was very disappointed to find that it had closed. The locals didn't seem to know much about it. Some people suggested the bar was closed for renovations, others that Freddie had retired. I found it amazing that nobody really knew. For me, of course a foreigner, Freddie Aguilar should be a national treasure! Anyway, I went to a nearby bar to drown my sorrows and a waitress advised me that Ka Freddie's would be opening again in Quezon City. "Just wait. Be patient."
I have now been to Ka Freddie's on T.Morato Avenue in Quezon City for the second time. I was first there a couple of weeks ago and this time Freddie took time out from his game of pool to greet us and to welcome us back. He was full of smiles and cheer and very kindly allowed us the time to take photos with him.
Beer costs less than P100 and food is quite reasonable - P200-300 per pulutan (food to accompany drinks, I normally refer to it as pollution [the yummy kind]). All prices seem to be subject to additional charges of 22% (service+VAT). Entrance should be P300 and should include the first drink. T-shirts are available at P600.
Entering the bar early may result in your entrance fee being added to your bill, not having the first drink deducted and also be subject to the additional 22%. Consider coming back to the door later on to pay the entrance if you are told that you're too early to pay the door fee.
Now, the only thing left is to play you some of the music made by Freddie and his family. Unfortunately, my camera did not pick up the light very well, and is limited to sixty seconds bursts of video, but please try to enjoy the following videos compiled from last night's recordings. Just close your eyes and imagine you are there.
Jeriko Aguilar live at Ka Freddie's
Freddie Aguilar Compilaton live at Ka Freddie's
Freddie Aguilar Anak live at Ka Freddie's
Freddie Aguilar live at Ka Freddie's
Aguilar Solos live at Ka Freddie's - drums and some amazing guitar
And now get yourself to Ka Freddie's and have a great night!
Read on...

Avenue Ridiculous Burger Challenge

Weekend in Dumaguete City, Philippines