Another Taxi Experience in Manila
I was on my guard as I always am when taking a taxi across Manila. The driver asked me if I knew the way to my destination, the airport. Really? I was puzzled and my defences came up quickly. I asked him "You don't know the way? Really?" because I was nervous that he might have a plan to drive first to the moon before going to the airport and did not really have enough spare time to play that game.
"Yes, I know, but maybe the way I know is not the way you know, so I am just asking you first.
"Which way do you know?"
He laughed and told me that he would go by EDSA. "Is that ok with you?"
"Pwede." (ok).
And we were off. He hesisted at the first junction. He should have taken a left but drove straight on. And the same at the next. I was too slow to react. We were now heading in the wrong direction on a one-way street. I asked him if he had decided to go another way and explained my understanding of our new route. He smiled and agreed. We discussed possible alternatives and he asked me if I was sure I wanted to take an alternative as it would take much longer. We laughed, I relaxed and we chatted.
"Do you know why there are so many cars on the road?" He asked me, "it's because there are many rules in this country but the government does not enforce them. Did you know it's illegal to own a car if you do not own a garage to keep it in? That's right! But how many cars are there parked at the sides of the road? Anybody can buy a car, even if they do not have a house. Does that seem right to you? No, it's not right."
He was a gentle man, probably in his 60s. We spoke about the Philippines, about women, marriage, families, where we both came from and our respective jobs. And of course, as is always the case in a Manila taxi, about God. Well, for once I did not express my views but listened, hoping that I would not be asked to give my opinion. Well, I wasn't. The topics kept changing. And then we spoke about one of my favourite topics: crazy people.
"Every mountain has a snake. Even in Italy, Germany, America, and of course here in the Philippines. Where there is a mountain, there is also a snake." He made a good point. He continued, "but in Philippines, in the city... well, where there is a city, there is also a crocodile!"
Later we were talking about problems and finding solutions. And education.
"How can you see if you are handsome if you are not facing a mirror? How can you cut your nails if you do not have nail clippers? You cannot. So, in every problem we need something to help to provide a solution. Look at my hand. My fingers are all different. Individually, they cannot do very much. But together, they can do many things and move as a team to do many, many things.
People are the same. Every person in society is important. Teachers are important. Farm-workers too. Even the engineer! He has a job and he is important. The garbage worker too, he also has a job and his job is to help to clean up other people's garbage. Can the Engineer clean up his mess? Can he teach his children? Can he plant rice? No. Everybody is important." I agreed, pointing out that engineers are experts at making a mess, not at cleaning it up.
"Exactly!"
Later, as we were stuck in traffic, a young man with twisted arms and legs stumbled across the road towards the car. I held up my hand to the window to let him know to leave me alone. As he turned to leave, the driver opened the door and called the man. The disabled beggar came over and somehow managed to open the door. The driver pulled out a bag full of doughnuts.
"There-o" and passed a doughnut to the man's barely functioning arm. The beggar took it in one hand and twisted his already twisted body and struggled, but managed, to close the door.
"You're very kind," I said.
"I didn't give him money. I don't give money. I gave him food. I only give them food. Look," he said, "God gave me arms and legs. Do I want arms and legs like him? Do you want arms and legs like him? No, you don't. Whenever I pass by a bakery and I have a time and space to stop, I always buy a bag of bread and I then have something to give to the beggars. It is just a little thing but it is nice to see that now he has something to eat at least. It's just a little to help the other people a little."
We approached the airport and as I left the taxi, a new passenger was waiting. I asked for change but the driver didn't have, so we borrowed some from the new passenger.
I am now typing this as I sit waiting at the airport. I hope that somebody share the inspiration that I felt from the taxi driver. I have had a lot of experiences where people preach their religion by talking. I am very happy to have met Kuya Driver who was able to illustrate how to better live life.
Ingat ka lagi kuya! (Take care always, Mister!)
Read on...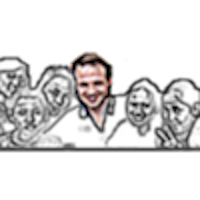 Sadhu Sundar Selvaraj Prophecy

Davao City: Best City in Philippines?