Les Miserables Bring Joy To Manila
"These singers are among the best in the world. This is something you will never forget for the rest of your life," I said as we entered the theatre. It is somewhat ironic that two hours later the event itself had already become a but of a blur.

Les Miserables, based on the novel written by Huge Victor, has become one of the world's most well-known musical plays. I was first introduced to "Les mis" by my American friend, Potterman, a few years ago. He encouraged (forced) me to watch the DVD recording of the 10th Anniversary Concert, which had a huge impact on me. The story itself is as tragic as it is passionate and the performances are... well, you have to see it really. It lifted me at a time when I needed a little inspiration and so, when I discovered that Les Miserables would be coming to Manila, I had to buy tickets.

In my immense wisdom *ahem* I tried to lower my expectations. Even though the 10th Anniversary was way back in 1995, it is still widely considered to have been the best and its cast is often referred to as the Dream Cast.

As we entered the theatre I started to wonder who on Earth would pay triple to be seated a little closer to the stage; then we found our seats and I uttered those foolish words, "This is something you will never forget for the rest of your life," and as our excitement heightened, the lights lowered and the first notes sounded.

Although I barely remember the details of the show, I do remember some of the thoughts and emotions I had during the evening.

Jean Valjean. I really felt his anguish as he questioned himself, turning from dark to good and back again every other line.

Shortly after, Fantine's desperation turned me into frozen poultry. I was shocked that something as simple as a person's voice could physically affect my body from a good fifty metres away! And not only me. Her voice must have affected the other thousand or so people there too. I know because many people were sniffing and wiping tears away from their cheeks with handkerchiefs. Even as I write this, it occurs to me that sonar warfare is therefore a real possibility.

I also solved my own question about the pricing of tickets. I was very happy with our seats, we could see the action clearly but, if I could go back in time I would pay triple and sit closer to see the expressions of the singers. It would be wonderful to add seeing their pain to hearing and feeling it.

Unlike the 10th, the scenes were really acted out and so I was able to understand the story much better than I had previously. I could really SEE what was happening. There was also a lot of running. Valjean really ran off stage to escape and then ran into the next scene which had been miraculously set up in the shadows on stage whilst the previous scene was being played out.

The sets really were amazing. I do not "frequent the theatre" as equally it does not frequent me so it may well be normal, but, I have never seen it before so I was amazed at how seamlessly the scenery was rolled in and out, sometimes even during performances. The lighting effects were so well done that it was possible for the crew to re-arrange the stage set whilst action was continuing without noticing it. During the show the stage represented many arenas all over Paris - a bar, an underground lodge for revolutionists, a hospital, a factory, a street complete with garden fence and a house, a battleground on the streets of Paris, an underground sewer. Magical! They even made a railing completely disappear into shadows whilst somebody was standing it - just before he fell through the air... in the theatre? Really? Fell without even moving? Yes. It was intensely clever.

My favourite setting was the bar of the Master of the House. It was vibrant chaos, seasoned with a little subtlety. That reminds me of another thought I had. This is a sad comment on modern times but I really did regret not being able to click rewind to replay the scene so I could see all of the action that was going-on in the background. There were so many jokes and I only caught a few of them. Having mentioned Master of the House, I have to admit that unfortunately I found myself comparing to the 10th, the Dream Cast, who were perfect. It is not really a fair comparison. If you have not seen the 10th, this would be the best performance ever. If you have seen it, this would be the second best.

Equally, Eponine was good, but she isn't Lea Salonga and whilst Rachelle Ann Go was very good, she is just not AS good as Fantine from the 10th. Likewise with Valjean and Javert. Actually, I really liked Eponine, even if she "has no brain" as the boy suggested.

Having said all of that, I have never heard singing anything like that; the power of the voices, such desperation, the despair, to see, hear, feel it all up so close and even in the case of my goose bumps, to wear it, ah, it was just perfect.

Did I enjoy it? Yes yes yes! Would I go again? Yes, absolutely. Please invite me and I'll behave, I promise! I won't even sing along if I am not allowed to. Were they among the best singers in the world? Yes, I believe so. Was I right; will I remember every detail every second for the rest of my life? Sadly, no, it has actually become a bit of a blur, but I will never forget the effect those voices had on me during those few hours.
I am not sure how to top that. Possibly to go again and sit closer, or to see the Cirque du Soleil, a bit of a long term plan of mine.
If you have the chance, go and see Les Miserables before the end of the season (and please, please take me with you).
Read on...

Lazada's Imaginary Sale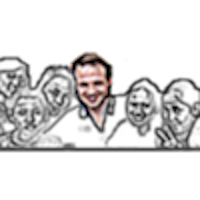 It was a vote on the EU not a vote on Europe