White Alien goes to One Laiya, Batangas
Going to the beach from Manila is not quite as simple as it can be in other places that I have lived.
From my home town of Colchester in the UK, I would walk to the train station and take a train to Clacton-on-Sea, disembark, take a short walk and hey presto: there it is: the beach and the sea-side, open and free for my enjoyment.
At my home in Nice, I would don my trusty roller skates and five-to-ten minutes later, traffic permitting, there I would be removing my skates and getting ready for a swim at the sea's edge.
In the Philippines, however, it seems that just about every beach has an "entrance fee." It is very, very difficult to find a seaside or beach area that does not result in some kind of entrance fee and also has the kinds of amenities you might expect such as access to somewhere to eat or drink. Especially if Manila is the starting-point!
I was advised to try Laiya. Laiya Beach is near Batangas City, within the region of Batangas, South Luzon and is apparently the most easily accessible beach from Manila that has white sand and all of the facilities that one might expect. Additionally, I was told that there is no entrance fee and that it is easy enough to get to the beach and to relax. Now the only job was to actually get there.
I invited my friend and his companion and so we had our plan of how to take the bus going there, but as a last minute change of plan we ended-up asking a taxi driver how much it would cost for the two-hour journey. After some negotiation (helped by it being a quiet Sunday) we arranged a price of P 2000 ($44) and we set off having first bought a lovely box of donuts.
What did I expect to find when I got there? I expected provincal behaviour, a bit of shyness and very hospitable people. I expected a very empty, long stretch of white sand beach with no real developments, a clean breeze, peace and quiet and cheap rates.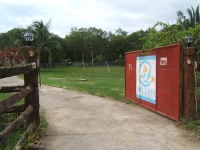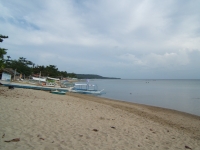 When we arrived, what I found was a dirty stretch of dark brown sand, a massive modern hotel with prices that would be more akin to Rome or Paris, nowhere to eat, swarms of mosquitoes and what looked like a heavily polluted sea with dead fish swimming sub-consciously at the surface of the water. It took the best part of an hour to find a place priced even close to my expectations. The "resort" we decided on is called One Laiya Resort.
We were all disappointed but tried to remain upbeat. We would be staying in very simple bamboo huts well away from city life, or any life come to think of it, and it would be a relaxing time for us.
Again, with some negotiations, we managed to get the huts for P 1,500: more than double what I paid for my room in Boracay and by far the cheapest option in Laiya.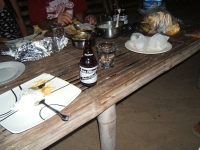 Immediately, I wanted to address the issue of what to eat. Following a long conversation, a local man was summoned and he would be our cook. He agreed to go to the market and fetch some food (and beer) for us which he would prepare. A few hours later he returned on his motorbike with the food that he had bought at the market and prepared at his own home. Chicken curry with a side dish of fish, oodles of rice and a massive crate of beer, which I can only presume was balanced precariously on the back of his bike as he bounded along the road. It's possible that he had stuffed his young daughter on top of it to weigh it down onto the seat. They also brought a selection of slippers (flip-flops) for my friend who had asked for some new ones. No need to pay immediately; pay on check-out. Ok, great! Let's drink! Tagay tayo!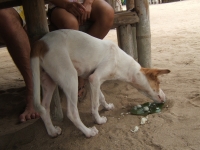 The lady who runs the place we were staying was exceptionally hospitable, fun to be with and would not leave my side throughout the meal, insisting on serving me additional food every few mouthfuls, to make sure the plate was full. Even the local azkal came over to say hello (and to wait for his share of course! There is no love without a full belly!).
It was about 9pm and definitely time to try to get some sleep, since there was nothing else to do. Ah, the province life. I was finding it difficult to get to sleep as I was being constantly gnarled by mosquitoes. Drifting in and out of sleep, I had some very disturbing dreams and woke every now and again to swat the latest insect to be sucking at my blood and then stayed awake scratching frantically, not entirely aware of my actions. It happened over and over again and I could feel that this would be a long night.
Finally, I woke up, quite exhausted but at least relieved that the battle of the night was over. I checked my clock and saw that a whole hour had passed. I could not believe it. I went to find the shower. I was half asleep so did not fully appreciate the view from the shower until the next morning.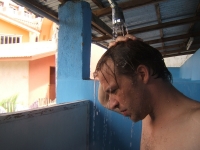 The night continued in mostly the same fashion and by morning I really was in a bad way. Luckily, the "waitress" was up and about and so we were served coffee and last night's leftovers. The girls heated them up for us and we ate them and drank some coffee. There was a tiny girl following Waitress around. She was presumably her daughter and was keen to stay behind her so that she would remain out of sight. She would sneak a quick peak around the legs of her mother and was generally with whatever task her mother was doing: carrying coffee, sweeping the beach, carrying clothes, etc. I tried to encourage her to speak to me, unsuccessfully. I made a prediction that she would speak to me on the morning that we would leave..
We went for a walk along the beach to see what else was around and stumbled into a very large resort that was equally expensive but very well maintained. During the walk and various conversations it became clear that the whole area had been devastated by typhoons just a week earlier. There was a bulldozer on the beach and some of the beach resorts had teams of workers doing their best to repair damage to tree-houses and the like. I imagined how beautiful the place could be when it is blooming.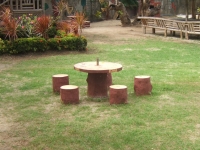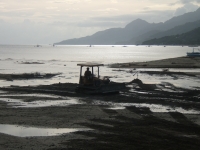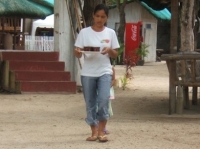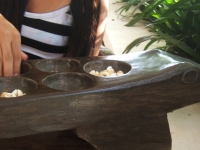 We stopped for a cup of tea and to play a local game called Sungka. In fact, this very write-up would later become the inspiration behind one of my latest websites, http://www.sungka-game.com. There was a degree of cheating going-on, for sure, and so I of course lost the game. The girl working at reception was very friendly and actually very impressive. Her English was perfect and her understanding of local tourism and other subjects was also astonishing. I asked her where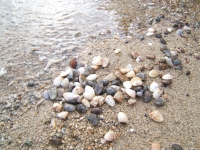 she learned to speak such perfect English and she told me the story of her home-life.
She has a lot of siblings as per the norm in Philippines and her mother has a reasonable office job whilst her father is a fisherman. Her father does not speak English yet they have a very strict policy that anybody who does not speak English should pay a penalty of ten pesos into the family fund. She thus has learned to speak perfect English and had obviously developed a keen sense of responsibility and after some questioning demonstrated that she is aware of the tourist trade in Batangas. Very good.
So, back to our beach. We passed a group of girls who were collecting what looked like sea shells. Closer inspection showed that they were actually collecting food! Apparently the creatures inside of those shells taste delicious!

Another meal would follow in the evening with much the same process as the day before. A large order; a man was summoned and disappeared on his bike only to later re-appear with whatever it was we had asked for; the azkal came for his share and then it was off to bed after a couple of bottles of beer. And the mosquitoes were there again. But, this time they had brought a friend to enjoy the snack. I am not really sure who it was, but it bit me during the night and caused my lip to swell into a big ball. I suspect it was an ant or possibly a cockroach.
So, the morning came and it was time to leave. I waved good bye to the azkal friend and the little girl also waved to us, grinned and said "bye-bye", as predicted! This time we would be braving the local transportation. First up: the tricycle. My 6'4" tall friend folded himself up into an origami ball so that he could fit inside and I perched on the back. We did not expect it to be a 30-minute ride. We then jumped into a van and my friend learned that he really is too tall for this country. An hour late, he unfolded himself, slid out of the van and onto the road. I was starving. Let's eat. There was no need to check bus timetables and the like. There is no such thing. The bus leaves when it is full or when it is evident that it won't get any more full any time soon. So we ate at an eatery and the whole of Lipa City came to greet us.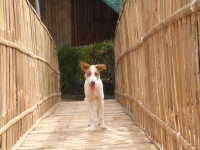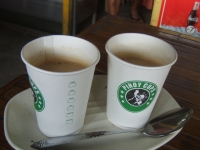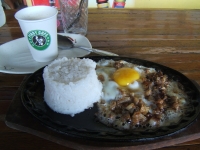 In the cafe next-door, an old woman shouted across to me and we exchanged a comical argument in Tagalog as to why I would not buy her a Christmas gift. She gave up when I told her that her gift was already at my home and she could come and collect it any time she liked. No, I would not give her my address, she would have to guess where it is. And then I ate. Sisig with egg and a cup of coffee served in a Pinoy Cups cup!
We finally boarded the bus and the vendors came and went as they tend to do, and so I bought some pasalubong: Buko Pie!
We continued home on the bus ride and as we were passing through Alabang, I noticed through the window a very large clock that reminded me of London. Suddenly, I saw the name of the mall: The Big Ben Mall. Sadly, the batteries in my camera had died so I was not able to get much of a shot of it.
And that brought to an end our trip to Laiya.
For sure, the basic amenities are absolutely non-existent and the services are not what you would expect. The beach did not match up to my expectations and the price of accommodation was far more than I had anticipated. However, the people, once again the Filipino people, made the trip entirely worthwhile and very pleasurable. Once again, the Filipinos manage to be great company and very affectionate and attentive hosts and that, coupled with the fresh air and relaxing atmosphere (during the day) made for a very enjoyable trip to Laiya One in Batangas.
Read on...

Ayala Christmas Lights Show

Mario, Manila Taxi Driver: The Importance of Enjoying Life