Davao City: Best City in Philippines?
I had been planning to go to see Davao City for a very long time. So many people have told me that it is the best city in Philippines. The previous mayor was famous for his strict policies and the city itself is famous for being a safe, clean environment. My research showed me that the city was full of vibrant night life, loads of modern shopping malls, great facilities and a perfect hub for travel to nearby spots of beauty. In January, my flights were booked and I was ready to go but changed my mind last minute do to very bad weather predictions. So I rebooked for February, Valentine's Day, but that plan was also scrapped and so here I am, in the middle of March and I find myself sitting on a Philippine Airlines flight on my way to Davao City. Finally!
I decided to book a Philippines Airline flight as it has been years since I flew with the the best airline in Philippines and felt like seeing what the difference was between that and budget airlines. The flight was delayed and the plane was sitting on the runway. After a while, the pilot made quite a sarcastic announcement explaining that we were delayed because three people did not turn up so they would be making suitable arrangements (removing their check-in luggage from the cargo hold).
Ten minutes passed the pilot spoke to the passengers again. Another sarcastic announcement.
"Ladies and gentlemen, I am very pleased to announce that we will soon be under way. Do you remember the three passengers that I mentioned earlier? Well, they finally decided to show up at the gate, at the very last minute." When the passengers boarded, some of the other passengers actually applauded sarcastically. I am not sure that the extra cost of the flight paid for extra professionalism.
As soon as I arrived in Davao City I experienced the friendliness and slower nature of people away from the country's capital city. The taxi driver was excellent, pointing-out various landmarks as we drove towards the city proper. He even offered me the phone numbers of two of his lady friends who would gladly tour me around the city. "No money, ha, it's just for fun and they will enjoy to have a new friend and to help you out." I took the number but as it happened did not call them. Perhaps next time.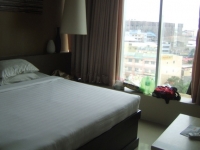 I arrived on Saturday afternoon, checked into Green Windows Dormitel, relaxed for a while an then set off to experience the night life. I like to walk so took a walk up to the famous Torres street to catch some of the evening atmosphere. There are a few bars and restaurants dotted along the street and one main complex where all the activity seems to take place. There was a live band playing in one very large outdoors bar and two or three discobars at the back. I found that the music from the discos was louder than the live band, and that most people were sitting in groups, so as I was by myself, people tended to be sitting, fixed in set groups and the music was a bit too loud to hold even a shouting conversation, I did not hang around. Maybe I am too old or arrived a little too early in the evening! I generally prefer places where I can hear the music or meet new people a bit more easily. It's a place worth checking out though, I am sure lots of fun can be had there.
My route back to my hotel took me past the Central Bank and past a chubby lady who called out to me:
"Sir, you want chicks?"
"No, I want to sleep po."
"SLIIIIIM, HE WANTS SLIIIIM!" She said. I am sure I did not say sliiiiim, but anyway, five or six girls suddenly jumped to their feet on the opposite side of the road. They had been sitting on the curb in a group. Some, I presume the chubbier girls, were still sitting.
"Ate, I said "sleep" po. Gusto ko tulog lang!"
"Oh, ok, hmph!" The girls laughed, jeered their mamasan pimp and sat back down.
Sunday morning: Araw ng Dabaw (Day of Davao City). I went straight to San Pedro to see the street parade. The streets were packed and some people uttered warm (and not so warm) greetings to the weirdo white alien. The parade passed-by, full of the usual colour, charm and typical performances you can see in any street parade in Philippines. It was fairly interesting. San Pedro street itself runs for a good half-a-mile and is lined with bargain stores selling just about everything you could imagine: clothes, household appliances, shoes, mobile phones, car parts, everything. The rains came during the parade, so I took cover under a shelter that happened to be occupied by a fairly experienced prostitute - I would imagine she was in her 50s. This was at about midday, just a short walking distance from the city hall, during the city's festival.
"Chicks, Sir?"
"No thanks, not before lunch, it's far too early in the day for chicks."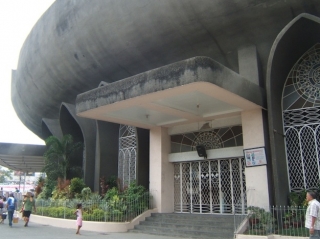 San Pedro street seems fairly important as it is also home to the beautiful City Hall, the city clock and San Pedro Cathedral. The Cathedral caught my interest, it's an interesting building. Sadly, I was not able to go inside as it was locked and I was accosted by beggars so did not hang around that area for too long.
Back to the hotel then to spend the evening working and watching TV. I don't have TV at home so it was interesting to leave it on in the background whilst working doing some programming throughout that night and the next day.
Monday afternoon and time to go for another walk. With the help of a map I plotted a route through downtown, that would take in all the major parks, museums and other places of interest. The rain started again but it was quite light as I set off. First target: Ramon Magsaysay Park. Despite the rain, the park was filled with college kids who offered interesting greetings such as "hey Daddy, hey Daddy, hey Jo, etc." The park itself seemed like a good place to relax and had a very nice view of the squatters that had settled along the river and had a couple of very interesting statues. My favourite was The Inuksuk: Spirit of the Shamon Transformed Into A Rock.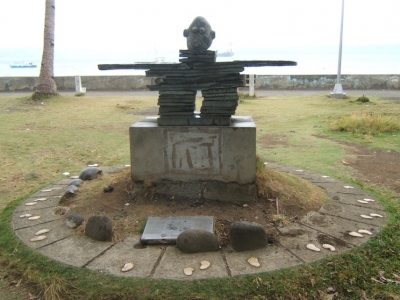 These rock statues, built to resemble humans, were made by native peoples of the Arctic and had different types of statues for different purposes. Some were to identify dangerous places, others to identify food sources. The Inuksuk were built generally for one of two purposes: commemorate particular events throughout history or to help the herding of caribou. As time has passed, the Inuksuk have also come to represent co-operation leadership and the human spirit. The Inuksuk was brought to the Philippines in 2007 as part of a celebration of arts, from Canada. There are two others, one in Cebu at the Marco Polo Plaza and one more at MOA in Pasay.
[edit February 2015: I have since met one of the partners of The Inuksuk at MOA in Manila]
I left the park and chose a slightly adventerous route along the closest road to the sea front and found a lot of construction work going on for as far as I could see. Three young girls, aged 8, had decided to accompany me and chat as we walked. With near perfect English, they asked about my life and chatted about life in general as I walked. They were charming and I wish I had taken a photo as a rememberance.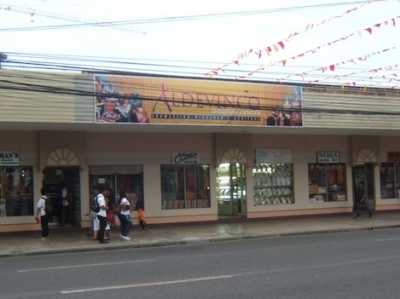 The Alvadinco shopping centre was along my route. I had to stop and attempt some bargaining for pasalubog gifts for my friends back in Manila. My bargaining skills totally failed me as the prices would not budge.
"Fixed price, Sir."
"What country are we in?"
"Philippines."
"Then what's this pixed price? Walang pixed price sa Pilipipnas!"
Then on to the Pasalubong Shopping Centre where my failed attempts to bargain continued, but I did eventually give-in and bought some jewellery for my friends back in Manila. The best gift was a hand-made purse made from coconut shells. It was excellent and very cheap! I ended up chatting and joking with the friendly staff there for a long time as the rain grew stronger outside. I finally braved the rain and ended up at Pard's Seafood Grill where I ate sizzling tuna and had a beer. The tuna was excellent, it's just a shame that my photo of it was not as good.
Tuesday it rained all day and I had various appointments with friends that were scuppered by a mix up in communications, so it became a work day and then a quick meal with a friend. Before the meal and between rains I made it People's Park where I sat and relaxed. The park is quite big and is really worth a look around and worth hanging out perhaps with some take away food. Whilst I was relaxing, a group of college-goers approached and we shared stories and joked together for quite a while before they went off to their next class.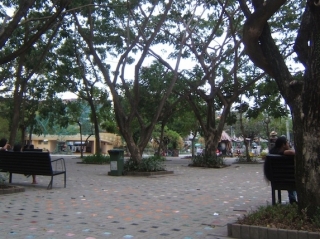 The rains were relentless, but I finally met my friend and we made it to Outback Grill. I had forgotten the name but asked the taxi driver to take me to the place with the crashed aeroplane sticking out of the roof. He knew it.
I can highly recommend the place. Live music, good food that is very affordable, dancing waiters and waitresses, the music volume was perfect, loud enough to entertain but not at all deafening, the staff are friendly, well informed and very helpful. Excellent place and I will be back next time I am there for sure! I took a taxi to a dancing club, had a beer, then walked home and took a wrong turn. And the rains grew stronger and I grew wetter and had a very interesting and very wet walk home. My fairly new shoes had their last outing and fell apart before I made it back to my room.
Wednesday thus became shopping day. Shoes! Back to San Pedro. I ended-up buying Philippines made leather-bound shoes that apparently come from Marikina, made by my namesake Alex (P850), no bargaining again. What is this place? No bargaining? Then I met a friend for dinner and her two friends. They are among the nicest people I have spent time with in Philippines so I thank them for their company!
Thursday, another working/walking day. The plan was to go to Marina Town Square in the evening but the heavy rains came and the place seemed quite sleepy so I went back to bed, saving my energy for Friday and Riverfront!
Riverfront raised my expectations to new heights. Check out the website for Riverfront Davao and the location on google maps to see why. I was expecting shopping malls, theme parks, restaurants overlooking the river, a truly developed and beautiful place. I had planned to see the Butterfly Garden, Crocodile Park and Tribu K Mindanawan Cultural Village. When I explained this to the taxi driver he seemed confused. I just said Crocodile Park and he headed off into the countryside.
We drove on newly-laid roads through a barren area to a deserted place in the middle of nowhere. Not quite the cityscape I was expecting.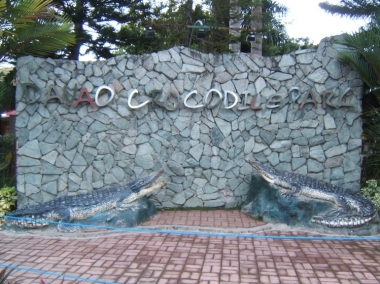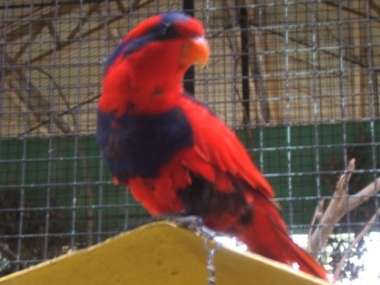 BUT, I have to say that Crocodile Park was excellent. I have been to a handful of animal 'parks' in Philippines and this is the best I have seen so far. The animals all seem very healthy and very well kept and the animal shows were very entertaining with the usual audience participation that you should expect in Philippines. The shows included very clever birds who can bowl and ride a bicycle, the park keeprsfeeding crocodiles, feeding the tigers and a tight rope walk.

I thoroughly enjoyed the park.
The highlight was going 'backstage' to see the tigers up close. I was able to approach the cage of Sultan, the biggest tiger and as I approached I heard thunder. Thunder that wasn't thunder. It came from Sultan who was laying down, looking straight into my eyes. Direct eye contact. A warning. He showed his teeth. Another thunder growl. One more step. I cannot capture in words the speed at which it happened. Or the volume. One split second and he was there. Up on his hind legs, face in front of my face, roaring at me, with only the thin metal of the cage to separate us.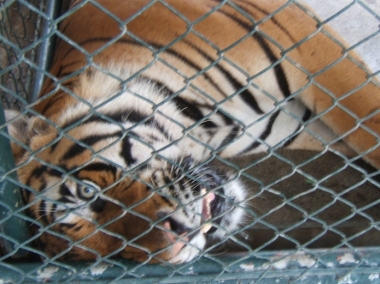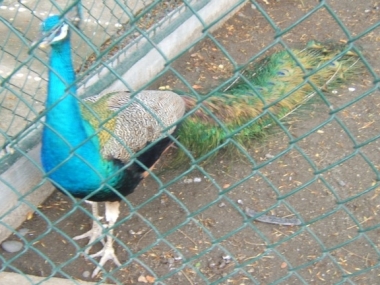 Sadly, I had some things to do that meant I had to leave the park a bit earlier than I would have liked, so I was not able to enter the Butterfly Park or the Tribal Village. I will do that next time. I can definitely recommend a visit and at P250 you will definitely get value for money. Some of the nearby restaurants also offer Osterich (my favourite meat) and Crocodile dishes. The meals seem to cost around P500 (although I would guess that's sharing for 2, with rice) so make sure you bring some cash with you. I headed up to Torres Street again for the night but found the same as before, I was advised to go back a bit later in the night to get the best atmosphere but was too tired and took an early night. I have also been advised to check out Obrero Street for another night life area.
I left on Saturday: the first sunny day that did not have heavy rains during my trip. Was Davao celebrating my departure?
Before heading to Davao I had expected to see an amazingly developed, advanced, clean, safe city. That was simply not the case. I can confirm that the city felt safer to walk around than any place I have been in the country, but the truth that I experienced is that the city is actually pretty dirty. There are street prostitutes, garbage and beggars littered through the city. Chinatown seems to be a huge industrial centre full of warehouses and building suppliers and the areas around the coast and up and down the river are totally awash with squatter homes and of course the suffocating aroma that always accompanies lack of proper sewage works. This was not at all what I had expected.
However, throughout my trip I experienced that staff all over the city, in hotels, restaurants, cafes, taxi drivers and even the laundry girls, all spoke excellent English and were very professional, especially compared to Manila. When people did not understand my accent they asked me to repeat myself to make sure there were no misunderstandings. I was very much impressed by that. I experienced the same in CDO and Butuan so I wonder if this is normal in the cities of Mindanao. Most people were extremely friendly and happy to talk about anything. I thoroughly enjoyed the company of all the people I met as friends already or those who have since become friends. The people of Davao City are a major attraction and there are many positive signs that the city may one day develop into a very modern city. Even from above, as I was leaving, I was able to take photos from the plane showing how well designed future projects are. Very much a works-in-progress.
I visited a few places that have excellent food and Crododile Park was very good too.
Next time I visit I will have to take a look at the many museums that are spread around the city and also make it to some of the beautiful spots outside of the city, especially the wakeboarding adventure park, the eco park, mount Apo and the famous Samal Island. I very much look forward to that trip!
Davao City, I will visit you again one day, hopefully I will bring some sunshine with me.
Read on...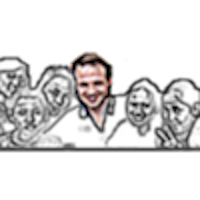 Another Taxi Experience in Manila

Free Sunflowers at the Triangle