The Perils of Finding a Job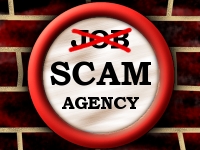 For those of us who choose to go and find a job or new income, the act of finding a job should become a full-time job in itself and as such requires some skills and a lot of effort. It can be difficult and can seem like a desperate task. It can also be a very enjoyable challenge and there are many avenues to explore to find a new job, but we should be careful.
There are some people out there who gain their own income by preying on those looking for new opportunities. I have come across quite a few unscrupulous organisations lately and would like to share my stories so that others may learn from these experiences and hopefully avoid potential problems.
Many unscrupulous people look for their victims on the street or through classified ads sections of magazines and newspapers. We can call them scammers for now. The scammers often make their money by posing as an employment agency, it may be somebody trying to entice you into their own home where perhaps your safety is called into question or it may be that they are trying to manipulate you into signing up to a pyramid selling scheme of some kind.
I will discuss some of the dangers below and how to stay safe. If you have come across any scams please share them in the comments section at the bottom of the page. You can post under an anonymous name but please use a real email address - it will not be displayed publicly).
At the bottom of the article I will give some ideas on how to find good job opportunities that are safe.
Bogus Employment Agencies
These scammers work in big teams and have a very good system that works very effectively. They distribute advertisements in classified ads magazines and newspapers and also employ leaflet distributers to prowl the streets. Once they have your attention they get you into their office and start talking about the company and how it is developing quickly and has new offices all over the place. The office is typically run down and not complete. They make promises of having a job vacancy that suits you perfectly and start by asking for a small fee. This is a test. Later, there will be another fee of increased value and the fees just keep increasing.
Protection:
Find out what certification is required in order to operate as an employment agency in your country and check their registration number or even ask them to see the certificate and ask for the registration number.
Most (but not all) employment agencies have a website. Have a look at their website. Does it look genuine? Is it complete? Does their website fill you with trust? If they do not have a website ask why not.
Are they a small satellite office? Go to the head office and check it out.
If they offer a particular job find out which company that job is for and call the company to ask them if they are familiar with the agency and if they work with them.
DO NOT enter any building that does not feel safe or is remote. If the building is in a quiet or inaccessible area go with a chaperone and also tell somebody where you are going and stay in regular contact.
Buy This Product First Scams or Commission-based Sales
A lot of people will try to encourage you to join their company and pretend to be offering you a job. When you enquire about it, they may even create a job title, salary, working hours and schedule and make all kinds of promises. You would then be invited to a workshop with other people and receive some form of training or introduction speech about the job. At the end, you may be asked to buy something or to register or pay for more training before you can be given the job. This is either just a blatant scam to steal your money or it is to sign you up into a pyramid selling scheme.
Alternatively, it might be that you are offered a job as office staff but later it transpires that the only way you can make money is on commission-only sales.
Protection:
If you are not sure about a company, before applying for a job ask them if there are any start-up fees or recruitment fees or requirement to buy any products. If the company says no but later it transpires that there are, then ask yourself how much you can trust those people if they would lie to you during the recruitment process. Do you really want to work for such people?
If a company tells you to sell a product before starting a job as a secretary or office admin then ask why. It is not normal to have to prove your prowess as a salesman in order to work as a secretary. And anyway, surely any sales skills can be monitored in an interview or a practise demonstration without actually having to pay for the product first yourself.
You may also ask about working hours and actual fixed salary. If the recruitment officer or agent is unable to give any indication of what salary or working hours might be, then expect that it will turn into a commission-only opportunity. Proceed with caution but still listen to what they have to say.
Pyramid Selling
A lot of people who participate in Pyramid Selling (also referred to as Multilevel Marketing, Network marketing, Binary plan) will try to encourage you to join their scheme under the pretence of offering you a job or income opportunity. It might be that you want to join, that's up to you. If that is not what you are looking for, then you really do not want to waste your valuable time in workshops and in other people's offices whilst you could be out there looking for a real income opportunity.
Often these people will approach you and come across as very concerned about you and tell you that they recently discovered a secret path to financial freedom that has worked for them and that they will share with you. They will not directly answer any questions and will try to encourage you to go to the office. If you do go to the office, the professional sales team will work on you using proven methods to convince you to join.
Click here to read why pyramid selling lacks moral responsbility
Protection:
Ask questions from the person who approaches you. Do not go to the office if they are unable to answer your questions. Find out how long they have been doing it, how much they have made in real terms, how much they lost, etc. Ask to see pay cheques or bank statements.
Ask if it is about sales or selling products or services. If it is, ask what they have sold themselves and how much profit they have made.
If they say that only the people at the office can explain it then surely it means that they themselves do not understand it, therefore you should not necessarily trust it.
Be especially wary of relatives and friends who cannot explain things in detail or show proof of their finances. New recruits to pyramid schemes are manipulated into attempting to recruit their relatives and friends first. It is not really the fault of the friend/relative. They trust the person who recruited them.
Ask if there is a start up cost. Remember that IF you are looking for a job then that is not the same as an investment opportunity.
Work From Home
You may find that the opportunity you have discovered is to work from home or to work in somebody else's home, perhaps as a house maid or private secretary. There is a possibility that this is a 'job' that may involve sexual activities or it may be somebody who is pretending to offer a job in order to take advantage of you. It may also be perfectly genuine and a good opportunity but put your safety first.
Protection:
Insist that your first meeting take place in a public environment or registered office
If you are going to a private address, go with a close friend or relative, particularly a male who is big and strong :)
Always let others know where you are at all times
Be wary of questions about your private life, marital status, or advertisements that specify "young and good looking girl"
Ask for a self employment registration number, proof of I.D. or company registration
Follow Your Instincts
There may be times when you feel unsafe but cannot explain why. Trust your instincts and stay safe. Ask questions if you need to. If a situation does not seem right, ask questions and do some background checking. Do not worry about upsetting anybody with a few sensible questions or checks. Any decent, honest orgnisation would be happy that you are investigating further and taking care of yourself. Besides, your safety is far more important than the new job. There are plenty of good opportunities out there if the new prospect is offended by your questions.
Good Job Opportunities
If you know what kinds of jobs you want to do, then you could get a list of all the companies that require that kind of staff and write letters enclosing a covering letter to each of them. This way you can be sure that any subsequent job offers come from trustworthy companies.
Go to authorised agencies that are recommended by the Government. You can also contact local job centres for a list of jobs that they promote and hopefully these will be trustworthy. You can often find lists of authorised agents on government-based websites.
In some countries there are many job fairs. You can find out where by checking the newspapers local events pages.
Job Hunting is a massive project and can occupy you full-time! I wish you the very best of luck and stay safe!
If you have any more ideas or have had any experiences of scammers please share them in the comments section below.
Read on...

Pyramid Schemes Lack Moral Responsibility

Good Food Comes Cheap