Avenue Ridiculous Burger Challenge
Today, I had a go at eating a ridiculous burger from the famous Avenue Burger on Makati Avenue in Manila. This was not planned, so I will explain why this formed the largest part of last night's dinner, today's breakfast and lunch too!
It had been raining pretty much non-stop for more than 24 hours and my house was empty on food stocks so last night, I decided to order a Jollibee and placed my order with notes to contact me by text message only as my phone is currently broken. An hour later, at 11.30pm, I received a text message explaining that one item would need to be changed in the order. I replied immediately confirming my choices and then sat and waited. Until 2.30am when I finally fell asleep.
When I awoke this morning, I checked outside my door on the off-chance that the Jollibee fairy had actually visited during the early hours, but no luck. I was ravenous and so I decided to order an Avenue Ridiculous Burger as it is huge, with some onion rings and fries to follow. I wanted to see how long it would take to eat the burger at a normal speed, without hurrying, so that one day I may attempt their ridculous burger challenge.
The challenge is that if you are at Avenue Burger and can eat the whole thing in less than five minutes, then you do not have to pay. It would be entirely free! But take your ID because you are only allowed to complete the challenge successfully once in your life time, so they will ask to see your ID to record your success. Don't worry, after eating it you will probably die from the ill effects of gluttony so will not have to wait long to have another go.
So, here is a video of my attempt. I realise that watching somebody eating a burger is not exactly top quality entertainment, but then nor is 99% of the rubbish shown on TV these days, so somebody might enjoy watching it.
So, there we go. I cut the last few seconds due to shouting some abusive words at the fly that was continuously pestering me, telling me that I really ought to shower, no doubt.
And the fries and onion rings were great too!
Read on...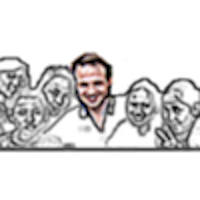 English Premier League Football Predictions

Freddie Aguilar Live at Ka Freddie's