Weekend in Dumaguete City, Philippines
Dumaguete: City of Gentle People
I have been to Dumaguete several times and each time I visit, I am reminded of the friendliness of the people of Dumaguete. The city has a tagline of "The City of Gentle People" and I absolutely concur! People greeted me very pleasantly with warmth and/or curiosity as I walked around the town, including two very young children working at the street transporting car tires, who jumped up for a hi-five and then continued their work. One lady was walking beside me and did not speak to me at all, but volunteered to share her umbrella with me as we walked beside each other.
Dumaguete is perfectly situated as a hub to other areas. You have the nearby mountain ranges, Siquijior just two hours away by boat, lakes, waterfalls, dolphin watching and sandbar picnicking in Bais and of course, Apo Island. This variety is presumably what has caused more than (a reported) 7,000 foreigners to set up home in and around Dumaguete.
Walking Around Dumaguete City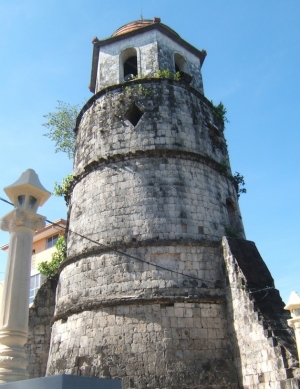 Walking around a place is the best way to become familiar to it. Dumaguete is a small city and so walking around is not a great challenge. It is certainly possible to visit all of the places of real interest in a day or a couple of afternoons. Here are some thngs that I found interesting:
Dumaguete City Bell Tower/Belfry and St. Catherine of Alexandria Cathedral
This impressive structure was built in 1776 There was a plaque nearby explaining that the bell had actually been stolen during the 1870s. The bell appears to have been replaced by a reasonably gentle air-raid siren that seems to sound at regular times, although I am not sure if this has any symbolic meaning. Please do let me know in the comments below if you know. Sadly, I did not photograph the Cathedral.
Quezon Park and Aquino Freedom Park, Dumaguete
These two pleasant parks are nice places to visit and sit for relaxation or with friends. There is plenty of shade in both places to get out of the sunlight. I noted that there seems to be a sewage filtration system right next to Quezon Park. There are no aromas to give it away and it has been planted and makes a very pretty little garden. There are two 'I Love Dumaguete' Picture-Picture Places: one in Quezon Park, the other is at the head of the Boulevard near to the port.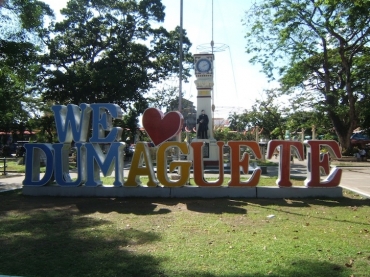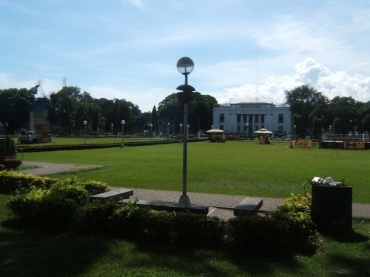 Masonic Temple: Filipino Heroes Were Freemasons
I saw several such signs whilst walking around Dumaguete. I found it very interesting and had no idea that prominent Filipinos such as Rizal, Roxas, Rizal had all been freemasons!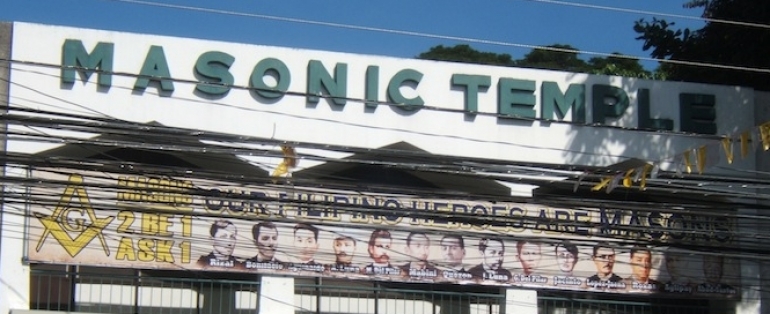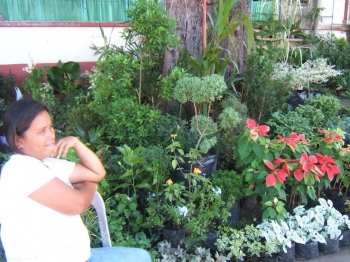 Garden Plots Outside Dumaguete City Elementary School

There is a long garden at the back of the school that is enjoyable to walk through and is very cool and breezy. I spoke to the Ate in the photo who explained that each plot seems to have its own gardener. Here is a picture of her in front of her patch.
Silliman University Church
It appears as if Silliman University is a huge aspect of Dumaguete. My understanding is that one part of the city is within the grounds of Silliman University and the university itself appears to contribute to the community, maintaining its own residences, church, parks, museum, all of which are accessible to the public. I wondered if the university also maintains the nearby roads and other local infrastructure.
Dumaguete Boulevard
The Boulevard is a good place to walk during the day or by night. There are many restaurants, cafes and bars that have good food, drinks and some live entertainment in the evening. Every evening an area is set up where you can eat and enjoy local foods.

Sleeping in Dumaguete City
There are many, many budget places to stay in Dumaguete City (less than P1000 per room per night) that are well worth investigating and I intend to do so in future. I do not think it is hard to find somewhere suitable to stay and have never experienced that anywhere has been fully booked.
Harold's Mansion Hostel/Hotel
Harold's Mansion has become the number one budget place for Backpackers to stay, and for good reason. Harold's has cheap rooms (less than P1000 including private bathroom/CR, sat/cable TV and air-con). It also has dormitory rooms for much less. The rooftop is a cool place to hang out, with a pool table and numerous hammocks. Harold's organise tours, have a live acoustic music night on the rooftop as well as free oyster tasting and other fun activities. It has a nice buzz. The staff are excellent: friendly, welcoming and very good at communicating about the tours that Harold's offer.
I have stayed there three or four times and I have to report that the WiFi connection has been extremely unrelaible and is now only available on the rooftop which is quite unconvenient and uncomfortable with the sunlight (making it hard to see the monitor) and temperature. I was also disappointed that when the tour to Apo Island was evidently not going to be available, the hotel staff were unable to recommend another tour operator to me. I was surprised considering that there is a small tour operator offering diving and snorkeling tours that actually rent a room on the same premises.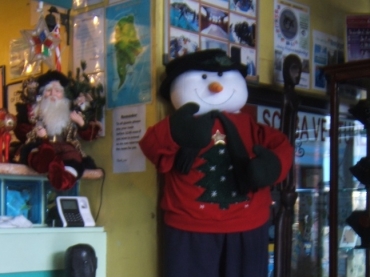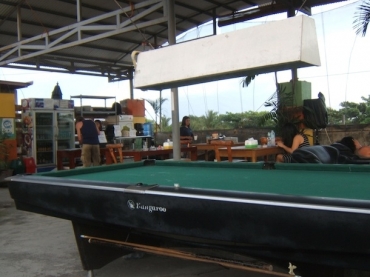 Eating in Dumaguete City
After walking around Dumaguete I have the feeling that the gentle residents must absolutely LOVE their feed. And desserts. And kape (coffee). The city is absolutely packed full of dessert shops, bakeries, cafes and restaurants, covering all budgets and all kinds of foods from all over the world. Anybody who loves food should certainly stay in Dumaguete City for a few days and enjoy the delights on offer.
Sans Rival Restaurant
Sans Rival is a very well-known restaurant, situated along the Boulavard, that is housed in what looks like a Spanish Colonial Building. This is the perfect place to buy Silvannas and Sans Rival cake. Sans Rival also has a varied menu and the food is very reasonable (expect to pay around P100-P200 per meal, depending on your choice). I can recommend the swordfish steak, which was excellent!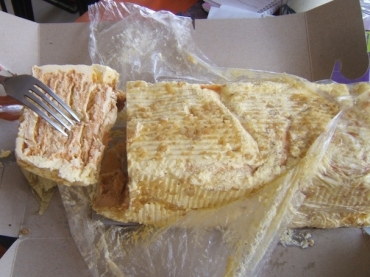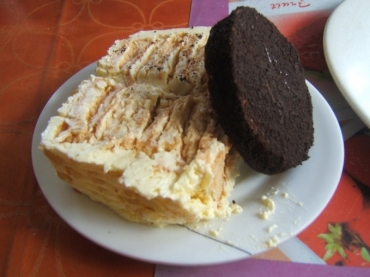 Snorkeling.Diving at Apo Island
Apo Island is a beautiful little island that is just off the Southern coast of Negros, just forty minutes drive/ride from Dumaguete City. As a marine sancutary, Apo Island has many diving and snorkeling spots and is definitely worth visiting either as a day trip or to stay there overnight.
Click Here For My Snorkeling and Diving Trip To Apo Island
Read on...

Freddie Aguilar Live at Ka Freddie's

Snorkeling and Diving in Apo Island