Movie Stars Cafe Manila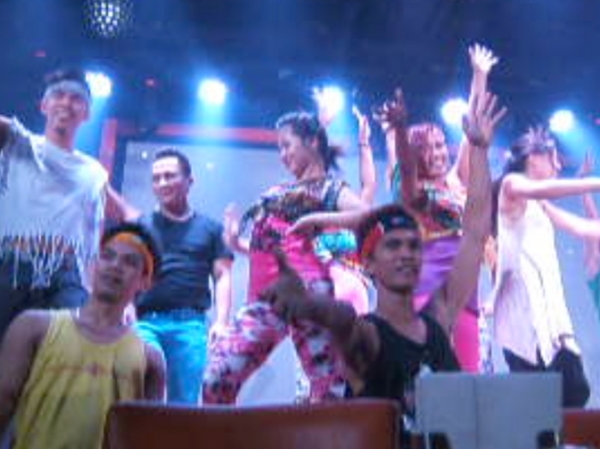 I would like to first set the scene.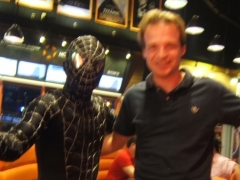 I had been touring Manila with my Korean friend, Bryan, who grew up in America. We had three amazing days where the most outrageous and most unusual things happened to us. Each experience was different: some positive, some extremely positive, others negative or extremely negative; but almost all shared one thing in common: they were very much unexpected.
We had the usual racism of Manila: the positive and negative discrimination of being treated better for being a foreigner in the country or having begging and the usual offensive comments surrounding money and assumed riches.
Some waitresses pulled the corners of their eyes outwards when asking if Bryan was from Korea, the usual begging occurred, even from so-called "professionals" and we saw the most proficient of singers performing in a band at an underground venue that had only one other group of customers at 3am early on a Saturday morning. That group had two gay men who put on an excellent impromptu show of ballet and ballroom dancing, extreme enough to shock the singers on stage!
That evening ended with the invisible games episode, playing invisible monopoly, imaginary scrabble, and non-existent pool and cards.

On the last day we decided to take a stroll along Mall of Asia's short boulevard alongside Manila Bay in Pasay City. We were looking for a place to have a quiet drink and to laugh and to joke about the events of the last few days. I remember Bryan explaining to me that his trips to Philippines always seemed like a cross between a nightmare and a beautful dream. Whatever happened to him, it always seemed hard to believe it was real and had really happened.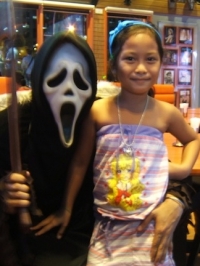 We approached a colourful bar that looked quite exciting from a distance...some lights, some music, some kind of show inside.
The door swung open as we approached.
'Goooood eeeevening!" A squeaky voice greeted us.
The voice belonged to a skeleton who wore a jester's suit and a manic grin. The jester skeleton, with his squeaky voice and his disturbing grin showed us to our table and brought us the menu.
After a while, that grin and the voice did start to make me feel a bit uneasy. Quite bizarre.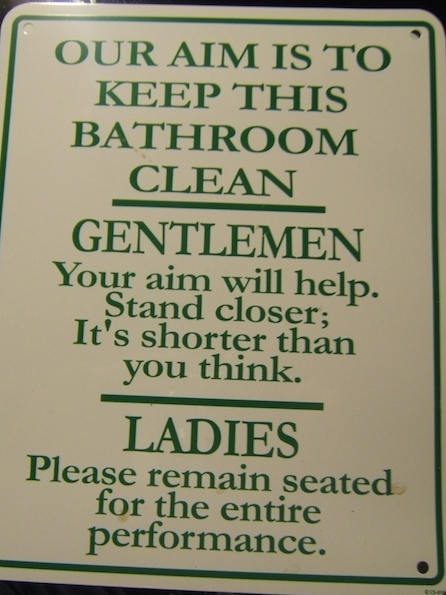 Well, it was a fitting way to end our trip together. But that was not the end. Darth Vader appeared on stage accompanied by storm troopers and put on a disco dancing show. One of the storm troopers was wearing a pink wig and Darth Vader later managed to find some wings from somewhere and then attached them to his back. The Troopers were joined in their dance on stage by Peter Pan, Spiderman, Tinkerbell and then Snow White appeared at our side and asked if we'd like another drink.
So that was my first experience of Movie Stars Cafe and I have been back twice since. Sadly, I did not capture any photos on that first night but have caught some since, including the last time when I was with my friends - it was fun to see the little girl hiding from the axe-wielding masked-maniac, but later befriending him.
I have not yet tried the food as it is quite expensive, but I can highly recommend a trip to the cafe, to buy a round of drinks at the very least, and to take in the truly unique atmosphere and events. It is an experience you will not regret, and definitely will not forget.
Have you been to Movie Stars Cafe at Mall of Asia, Pasay City, Manila? Did you taste the food? Why not leave a comment below?
Read on...

Mario, Manila Taxi Driver: The Importance of Enjoying Life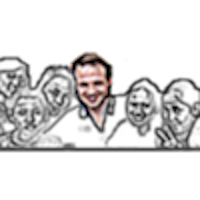 Music And Films Today Are All Rubbish! Back In My Day...